Welcome fellow ladies! Today I have a great new product to tell you about. After I've seen this cosmetics brand called "Wild Ferns" which uses bee venom as a natural botox. Which I think is really cool, it kinda reminds me of a korean drama called "Dae Jang Geum" haha. Especially the scene where the protagonist used venom from bee stingers to cure herself, I was so amazed by that scene. now I kind of want to go back and rewatch the entire series haha.
But enough of Dae Jang Geum for now and lets come back to bee venom for now, hehe. I want you to see what we've got for you today. We have 2 products which have to be used in conjunction with eachother for maximum effects, and those are Wild Ferns bee venom Serum and Wild Ferns bee venom Moisturiser .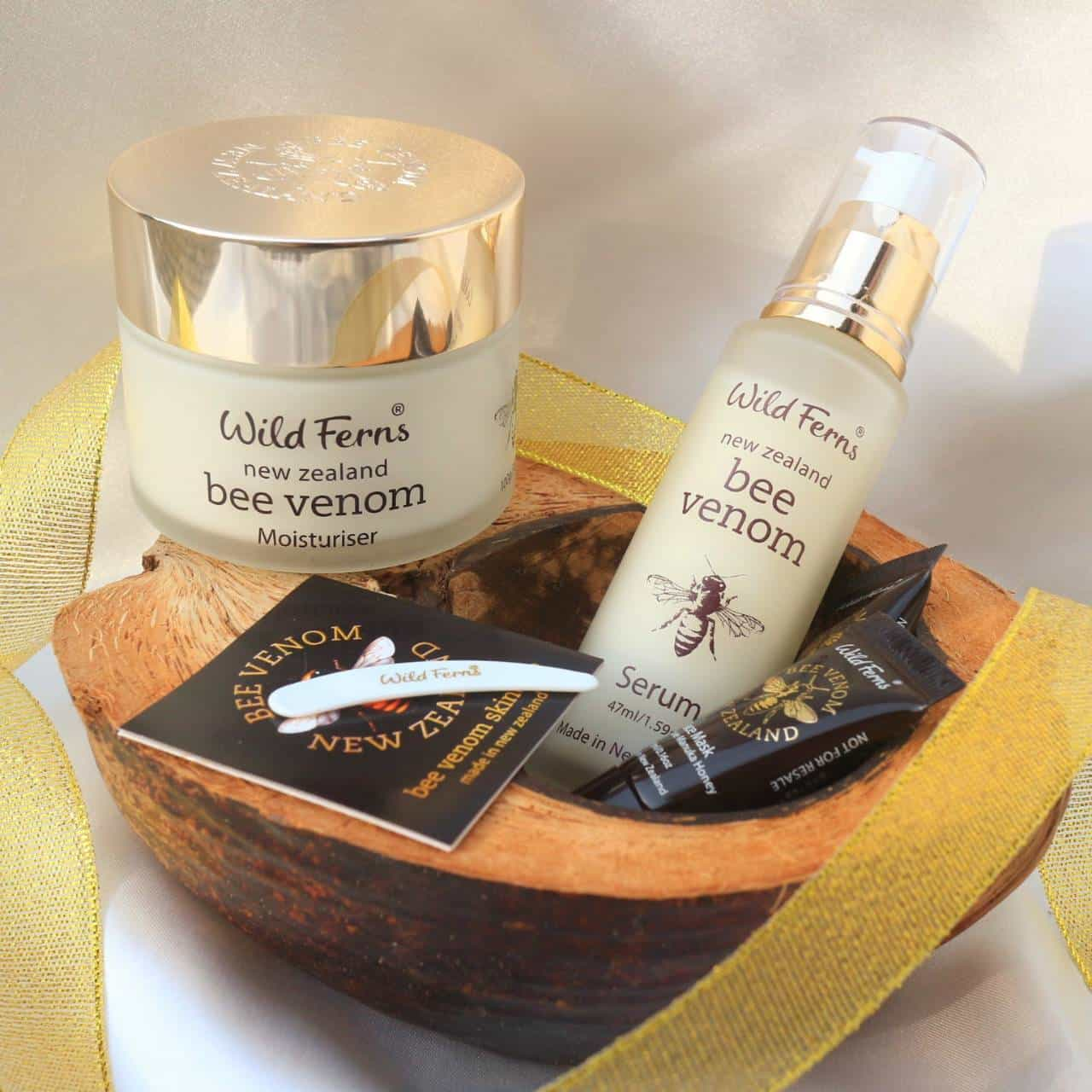 The pair that'll make you look young and beautiful, like you've done skin botox before.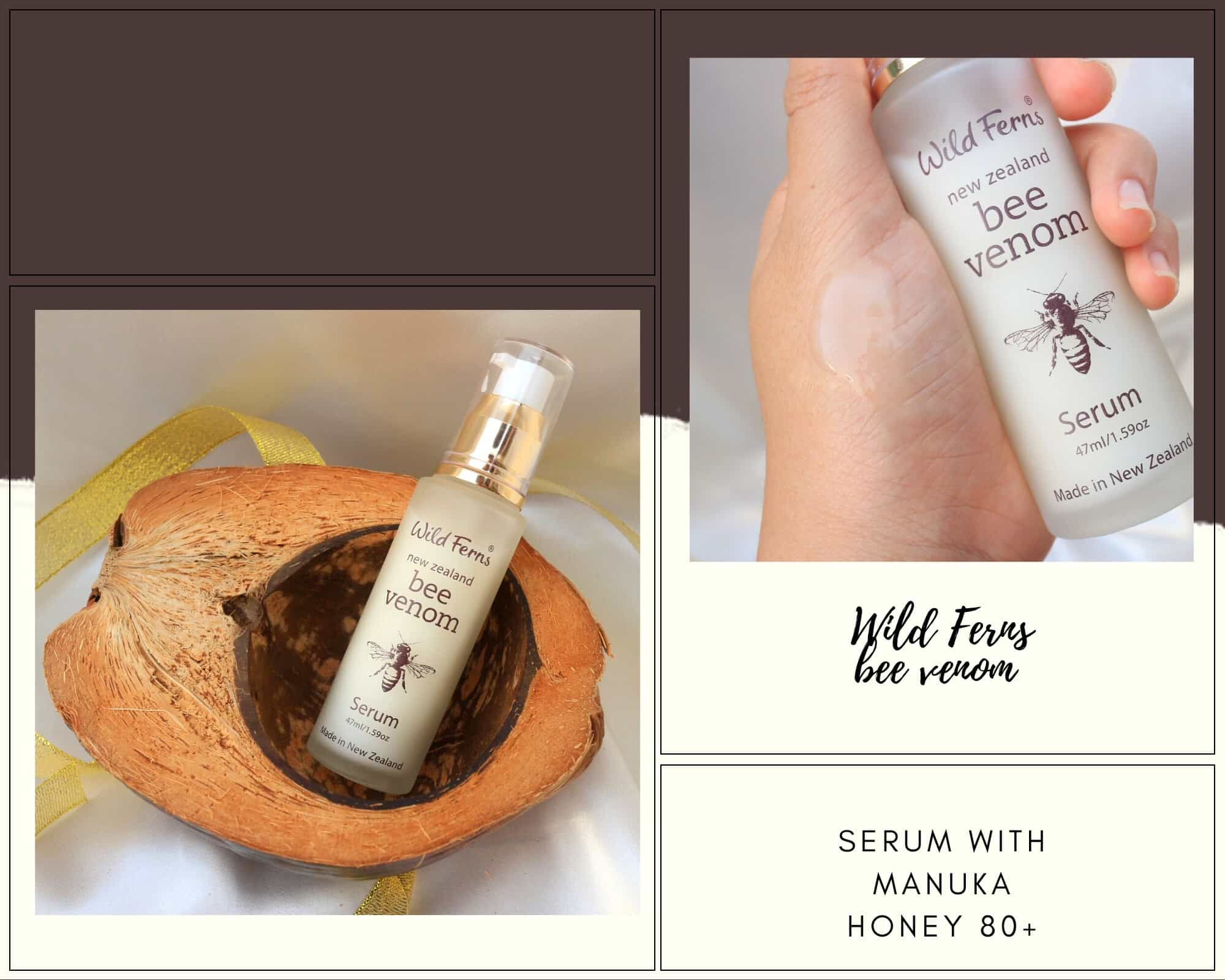 Wild Ferns bee venom Serum with Manuka Honey 80+
This serum uses pure bee venom mixed with Manuka Honey 80+ from New Zealand. The Manuka Honey used in the products also contains AAH 650+ which acts as an antibiotic and antibacterial substance. It will also helps your skin with Collagen and Elastin production. which will help keep your skin looking fair and young for a long time, it also reduces wrinkles from your skin. You could say this product truly helps your skin from inside and out.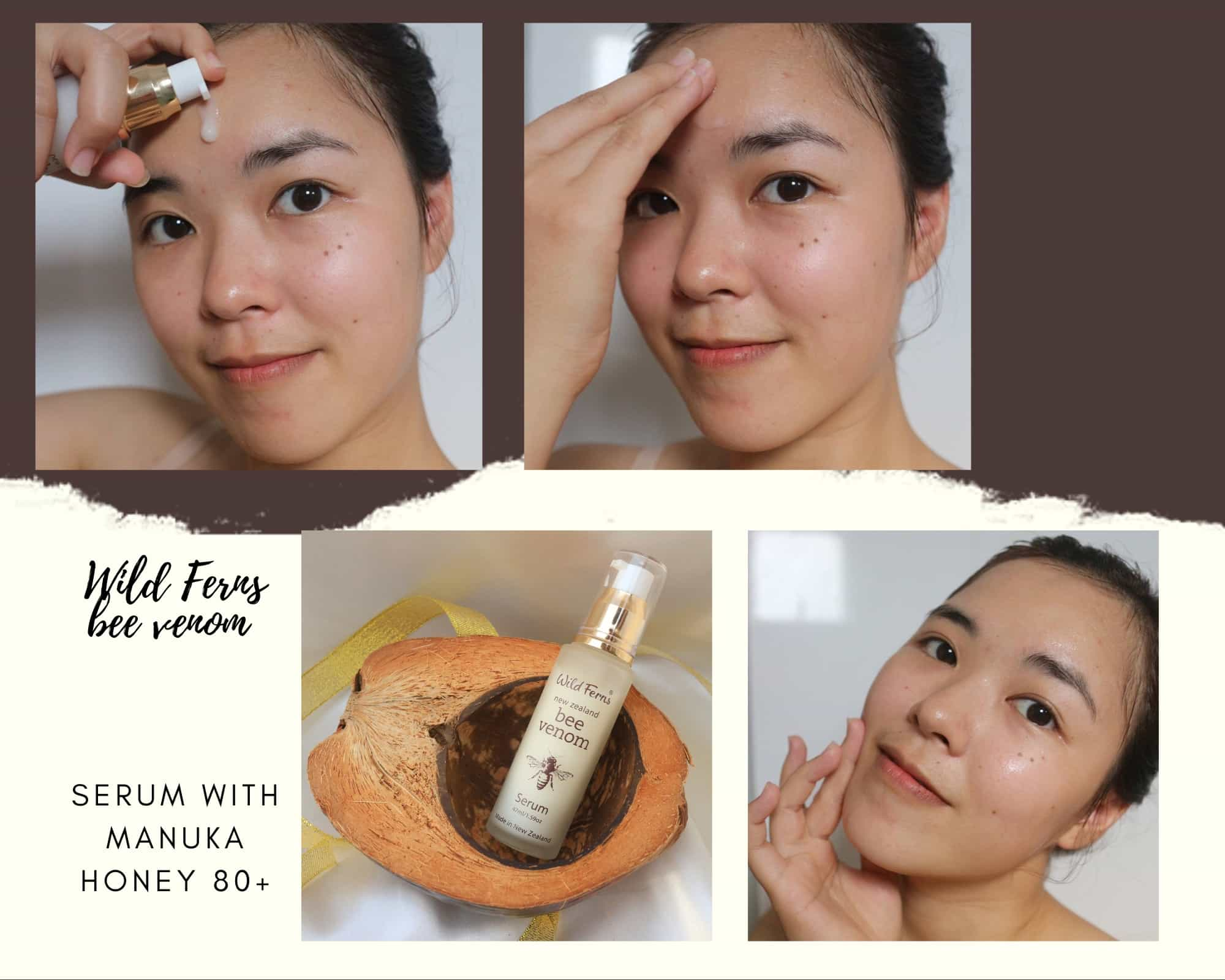 Instructions :
– Clean your face throughly, then apply serum to your face. I'll use this product before applying the moisturizer later. Apply upward while lifting your skin all over your face except around your eyes, I use this product in the morning and before bed, 2-3 times per week.
Texture & Scent :
– The texture of this serum is really soft, almost like liquid. It gets absorbed into your skin so easily. The serum also has strong smell of honey when compared to the moisturizer, but the smell isn't too strong so it's not a bad thing.
After use review :
– I can feel my skin getting moistened after applying the serum on my face, but the serum doesn't make my face feel sticky at all. It's like the serum disappeared immediately after I applied it. After rubbing it for a while I could really feel the moisturizing effect, even if it's not that moist but my favorite part is how the serum actually disappears almost immediately after applying it. So it doesn't feel uncomfortable when sleeping at all. No longer do I have to sit and wait for the serum to gets absorbed before I could go to bed, no more worries about serum stains on my pillow. It's so comfortable like I haven't even applied anything, but when I touch my face I could still feel it's there doing its thing though haha.
Wild Ferns bee venom Moisturiser with Manuka Honey 80+
For the moisturizer that they said goes really well together with the serum. It's made from Bee Venom, Sweet Almond and Apricot Kernel Oil. Which the Bee Venom will affect your skin by increasing blood flow in your face, which will increase the circulation of Collagen and Elastin in your skin. That will help reduce wrinkles, and moisturize your skin. It will also acts as a natural protection from UV lights and pollutions in the air. Making your skin look nice and fair naturally.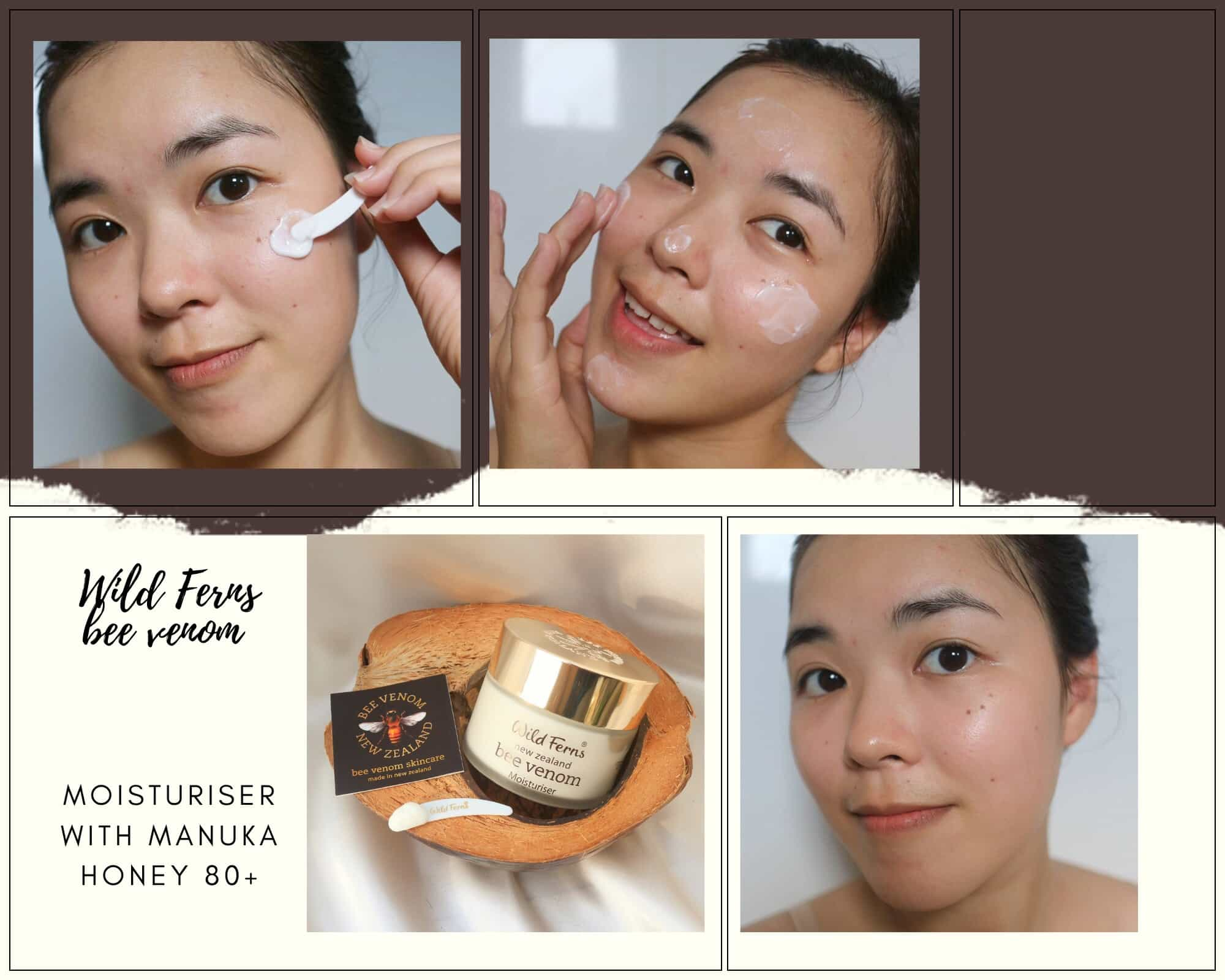 Instructions :
Apply all over face and neck while lifting your skin up, this product can be used both in the morning and before bedtime in place of night cream. But for the people with extra dry skin I would recommend getting a separate "Bee Venom Night Cream" that had been made for that condition specifically. But the other people with a normal or oily skin could just use this product in place of night cream and it'd be okay.
Texture & Scent :
The moisturizer texture is like a cream. This product smells better than the previous one, probably because of the added almond scent in the product making it smells like some kind of dessert. I really like it, hehe.
After use review :
Some people may think that just because this product is a cream it wouldn't get absorbed into your skin as easily as a serum, but this product gets absorbed into the skin just as fast and easily too. But you definitely can feel the difference between the two products, because after applying this cream I feel like there is a layer of cream protecting my skin. Also you could definitely feel how soft the cream is while applying it to your skin. I really love this feeling, it makes my skin feels nice and soft and moisturized at the same time. It's a really comfortable feeling and doesn't feel irritating at all.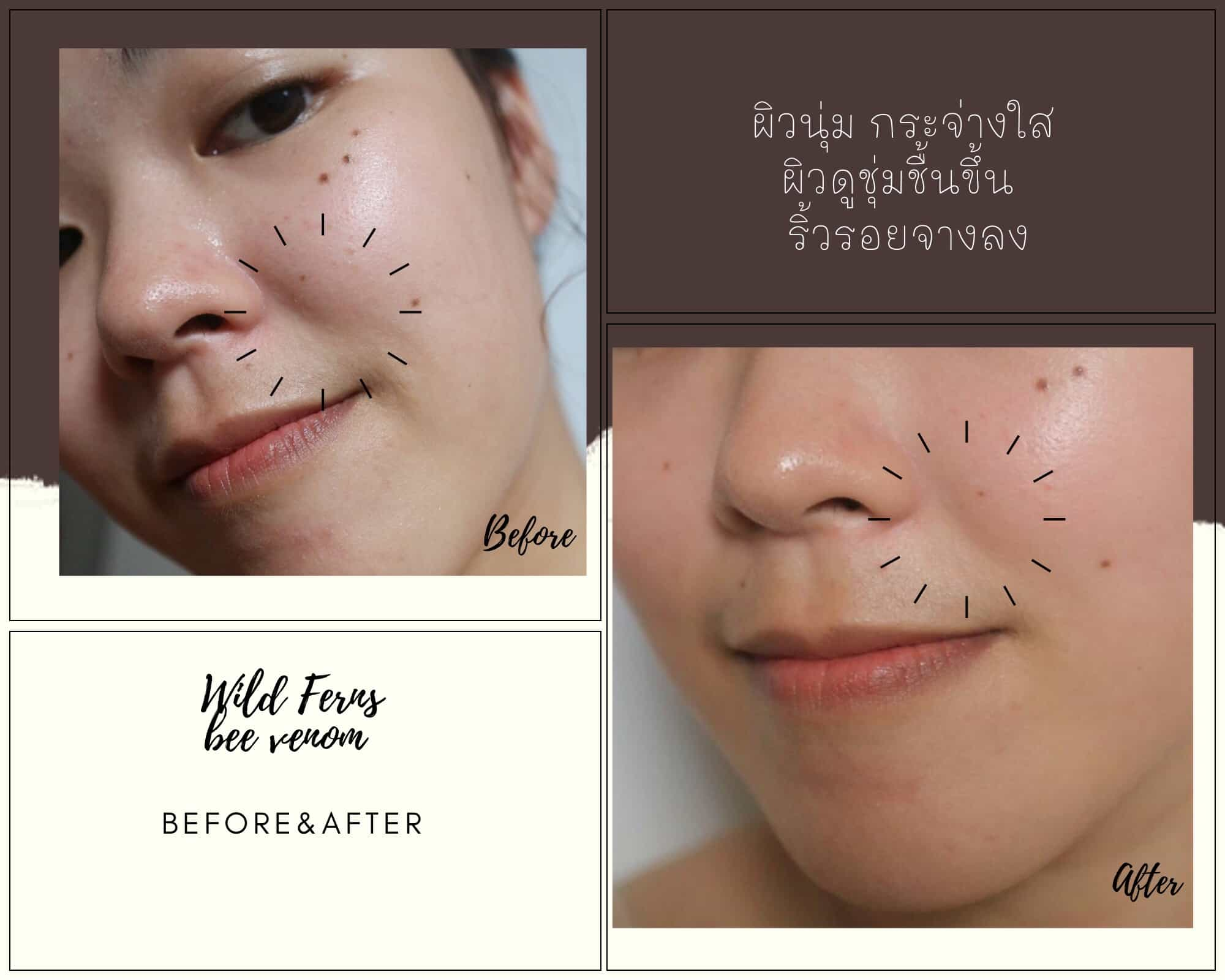 After I have used this product for 14 days. I could really feel the difference. My skin looks brighter and more healthy, more moisturized and my wrinkles around my cheeks have definitely been reduced. Which makes me really happy haha. At first I didn't really notice it, but once I compared my current picture with back then I could definitely see all the improvements, and the wrinkles on my cheeks that appears when I smile have been reduced quite a lot, hooray! I feel like I'm getting younger already hehe. That's all I have for today though.
PS. Almost forgot, here's one really important thing. These products use Bee Venom as a main ingredient, so if you know that you are allergic to bees then you definitely should stay away from the products. But if you aren't sure if you're allergic or not. I suggest trying the product behind your earlobe or on your stomach and let it sit for 24 hours to test if you're allergic to the product. I care about your wellbeing so please check before using the products. xoxo