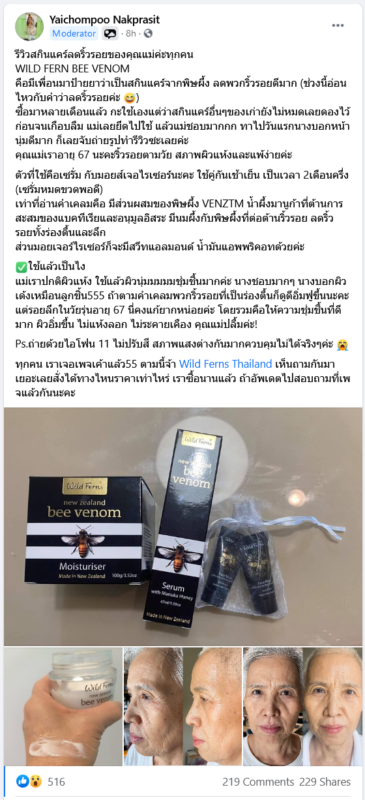 ---
WILD FERN BEE VENOM So my friend just recommended me this one skincare product saying it's a product made from bee venom, and that it really helps with wrinkles (Which I'm quite worried of
)
I've been letting sit around collecting dust for months, at first I wanted to use it immediately but since I still have a lot of other products I haven't used yet I never had a chance to use it. Then my mother tried using it and fell in love with it. First time she tried it she said she felt her face getting softer so I decided to use this opportunity to review the product. My mother is 67 years old so her face is wrinkly and dry from old age.
The product used were Serum and Moisturizer in the morning and evening every day for 2 months and a half (Because the serum ran out) The product calims that it contains VENZ™ bee venom and Manuka honey that acts as an antibiotic and antioxidant. And it also claims to contain bee milk which will reduce wrinkles both deep and shallow. For the moisturizer it claims to contain sweet almond and apricot oil.
After using the product, the usual dry face my mom has become nicely moisturized. Which pleased her a lot. She said her face became as bouncy as meatballs (hahaha). The product actually reduces shallow wrinkles as claimed. But to reduce deep wrinkles in 67 years old lady would be quite impossible for any products. But overall this product accomplishes all their claims. It greatly moisturized the skin. Reduced irritations and shedding of skin. My mother is very pleased with the results!
Ps. Taken on Iphone 11 with no filter, I really couldn't control the lighting in these photos. Sorry.
Good news everybody! I found the product's page : Wild Ferns Thailand from popular demands. Check the page out to see where you can get the products and the pricing and product updates.
---