The original post can be found here on the Jeban Website also don't forget to follow the Facebook communityรีวิวเครื่องสำอางแพง by Jeban.com for more posts like this
Acne problems aren't a joke, especially during summertime like this. You will encounter many problems such as oily skin, expanded pores, comedones, or even skin inflammations that will lead to acnes and more. All these problems seem like impossible to overcome aren't they? If you want to overcome these problems the first thing you have to start with is to do with the way you wash your face. But since everybody's skin is different from each other, that means you should choose skincare product that suits your skin to deal with these skin problems most effectively.
There are many types of facial cleansing products available today for me, personally I like the cleansing foam the most. Because the texture is so nice and smooth making cleaning my face feels fun and not like a chore unlike when I use other products.
Wild Ferns Manuka Honey Refreshing Facial Wash is a bottle-type face wash with a pump that creates an automatic foam. Which is an innovation exclusive to the Wild Ferns brand without wasting time rubbing or foaming and I use this product the most. This bottle is a cleansing foam from New Zealand. With a thick and soft bubble texture It has a faint scent that resembles honey. Giving a clean feeling after use Without leaving a feeling of dryness It also contains important substances that help soothe the skin. Reducing skin inflammation and helps with acne problem quickly and efficiently.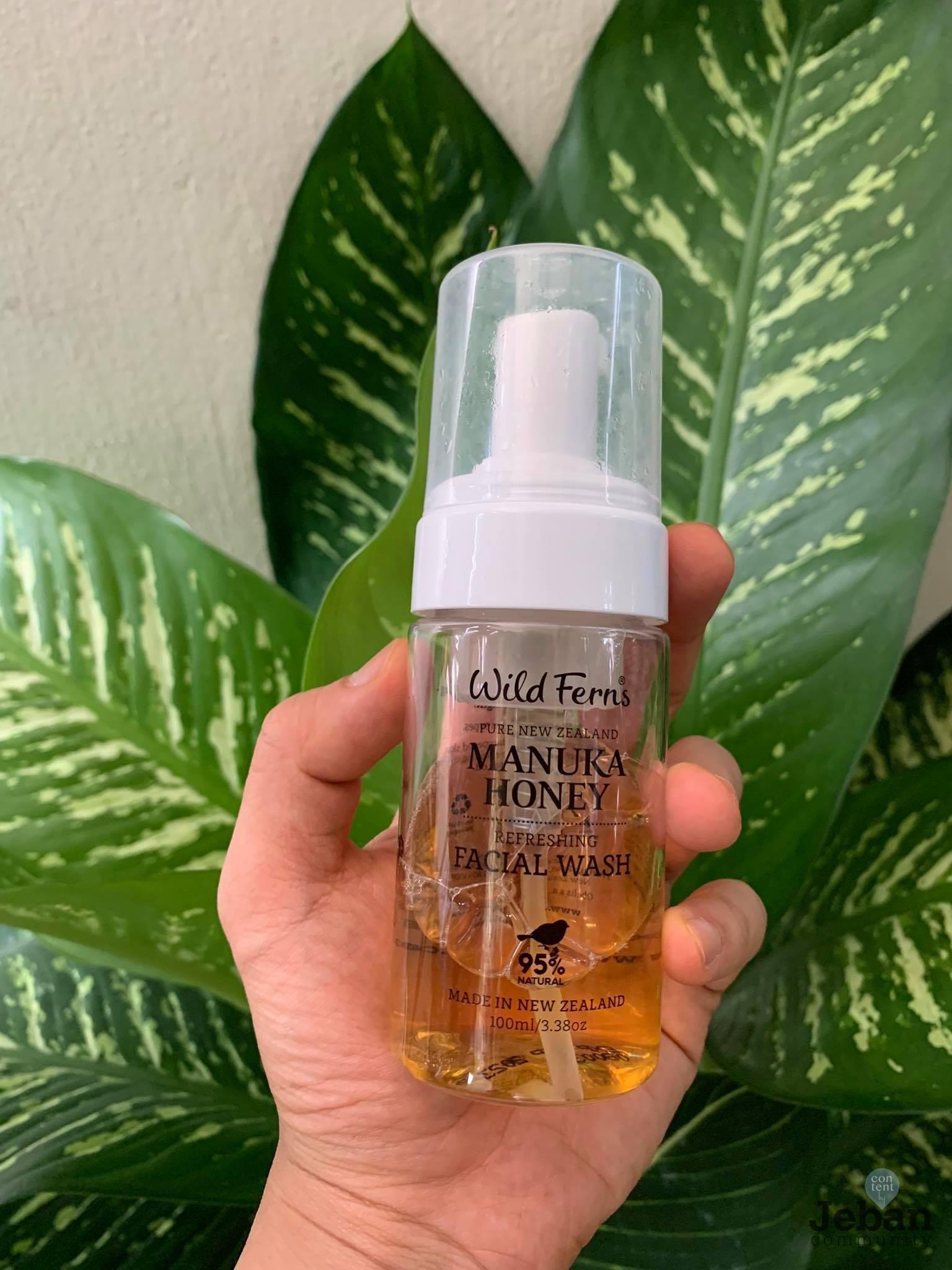 The products contains many interesting ingredients that will get you hooked to Wild Ferns because their products contains up to 95% natural extracts, which includes :
Leptospermum Mel (น้ำผึ้งมานูก้า) or Manuka Honey which is obtained from the bees that feed on the nectar of the flowers of the Manuka tree with a special quality that is superior to the common wild honey. Due to the production of Manuka honey can help exfoliate dead skin cells. Result in reducing clogging of pores. And it also helps to resist bacteria which is the main cause of acne.
Citrus Aurantium (Orange) Peel Oil Can help stimulate the circulation of blood under the skin. Thus making the skin healthy It also reduces the problem of dry and cracked skin. It will also moisturize the skin. In addition, it also has the property of Anti-Aging, helping to slow down the problem of premature skin aging.
Hibiscus Sabdariffa Flowers (Hibiscus) Extract. Has a weak acid that is responsible for exfoliation Which keeps the skin layers clean Thus reducing the chance of new acne breakouts in the future.
Salix Nigra (Willow) Bark Extract or Chinese willow extract. It has a weak acidic property to exfoliate the skin. Including the ability of antibacterial on the skin as well. Thus can reduce and inhibit the growth of bacteria Which is the main cause of acne

Sesamum Indicum (Sesame) Seed Oil or sesame seed extract. Contains important substances such as vitamin E and lignans It has antioxidant properties that help protect the skin and soothe the skin from pollution. Thus making your skin strong and It also helps reduce irritation of skin as well.
My Impression of Wild Ferns Manuka Honey Refreshing Facial Wash
I must first mention that washing your face is one of the most important steps in skin care. Because each day we have to face so much pollution around The more urban society, and pollution is a matter that's closer to you than you'd expect. Like the case of me. I have to wake up early to go to work and my house is located right next to the main road, so there are dusts from the construction of the road, fumes from cars, various vehicles. Of course, my skin is exposed to these impurities all day long. Therefore, cleaning your face with a good cleansing foam. It is like a good starting point for healthy skin.
I chose Wild Ferns products because of the ingredients. I like to use natural extracts as the main ingredient. The brand has only selected extracts that are gentle Thus making it suitable for all skin types and moreover, the beauty is emitted through the soft fragrance of honey and orange peel. It helps you relax and stimulate your blood flow. Thus helping both skin and mood and makes you feel refreshed at the same time. While the soft, thick foam reduces friction while washing your face. Making the skin clean without any feeling of dryness afterwards.
Since I has been using this cleansing foam for a while, I feel that it can definitely reduce my acne problems. And also deals with excess oil on my face during the day. Whenever there is a rash or itchy skin on your face I use this foam as part of the soothing. Because after washing your face with this Wild Ferns, It will cleanse your skin and makes your face feels so comfortable afterwards too.
A quick note for anyone who wears makeup on a regular basis. It is still necessary to clean your makeups first with Make Up Remover before applying. Since this foam does not have the ability to remove makeup.