💞WILD FERNS MAGICAL GIFTS FOR MOM & ME มอบเซ็ทพิเศษปรณิบัติผิวอ่อนเยาว์ให้คุณแม่เพื่อตอบแทนพระคุณคุณแม่ในปีนี้ พร้อมรับของขวัญพิเศษอีก 1 ชุดทันที (EXCLUSIVE OFFICIAL ONLINE STORE ONLY) หมดเขตเที่ยงคืน 12 ส.ค. 2564 ❗️
ชุดเซ็ท MAGICAL GIFTS FOR MOM & ME ประกอบด้วย
Wild Ferns Bee Venom Serum 47 ml. Normal price 1,990 baht
Wild Ferns Bee Venom Moisturizer 100 g. Normal price 1,990 baht
Wild Ferns Bee Venom Eye Crème 30ml. Normal price 1,790 baht
1 set of special gifts, valued at 2,816 baht
Wild Ferns Bee Venom Rejuvenating Hand Crème 80 ml. Normal price 1,690 baht
Wild Ferns Manuka Honey Guest Soap 40 g. normal price 490 baht
Wild Ferns Testers 5 ml x 4 pieces, normal price 636 baht.
The special discount set price is left at 4,900 baht from the normal price of 5,770 baht.
The brand Wild Ferns (Thailand) offers free gift wrapping for every order. This Mother's Day promotion will be in conjunction with the campaign. #wefightwithyou 10% of sales after discount will be donated #foodforfighters Rice Center Project for Doctors and People Affected and Suffered from COVID-19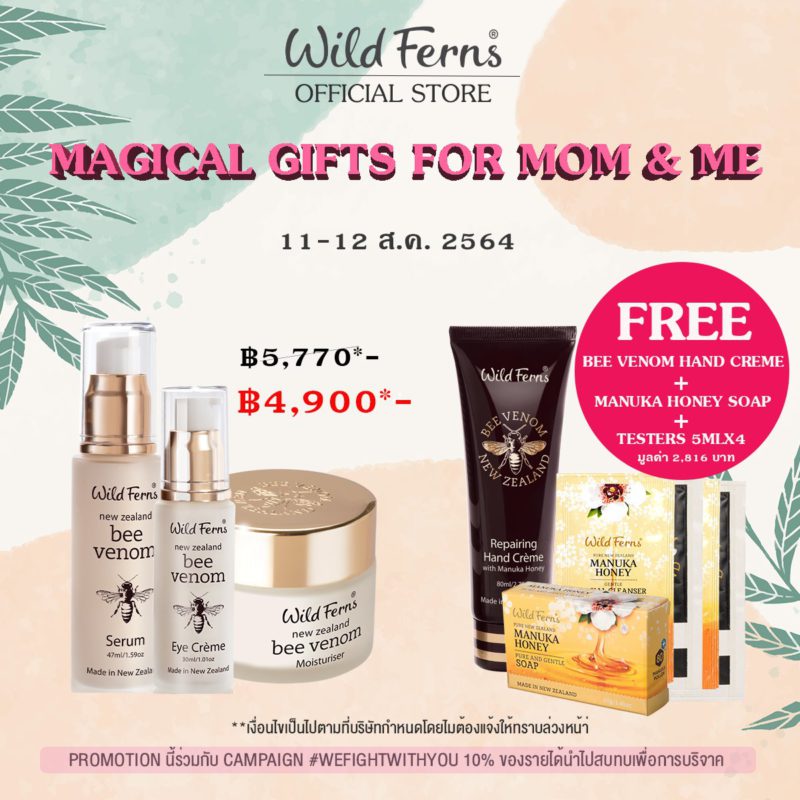 Wild Ferns Magical Gift Set for Mom & Me
Happy Mothers day, Show your Mom you care for her!
Wild Ferns Magical Gift Set for Mom & Me
Whats included
Bee Venom Serum 47 ml. x 1
Bee Venom Eye Creme 30 ml. x 1
Bee Venom Moisturiser 100 g.x 1
Free Gifts included…